School is out and the industry is preparing to welcome the next generation of travel industry leaders and this week's digital issue of Travel Courier puts the spotlight on some of them.
Now in its second year, Baxter Travel Media's Baxter Student Ambassador Program (BSAP) is committed to identifying the industry's most-promising student talent in tourism and hospitality programs at Canada's leading colleges and universities.
Through networking, mentorship, hard work and teacher encouragement, these select students connect with industry leaders, gain hands-on experience, and are energized as they begin their careers in the exciting field of travel. Their eyes are opened to the who, what, where, and why of this complex business.
"For many years, the industry has struggled to find ways to bring young people into the travel business," said Wendy McClung, VP, Operations and BSAP Program Director at Baxter Travel Media.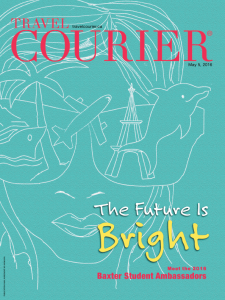 "As Canada's leading travel trade media outlet," McClung continued, "we believe we are perfectly positioned to create a program that brings students, faculty, and industry leaders together to empower empower the next generation of travel professionals."
Based on a combination of academic success, industry and community involvement, leadership skills, and a skill-testing webinar presentation, one graduating student from each participating school is designated as the Baxter Student Ambassador Winner.
Amazing opportunities await the winning Ambassadors including an 8-week internship at Sandals in St. Lucia and an all-inclusive trip for two.
The funding and prizes that make this possible comes from the generous support of the sponsors, Transat, Sandals, WestJet/Princess Hotels & Resorts, Sabre, Baxter Travel Media.
All winners receive a one-year membership to Young Skal, access to ACTA's learning centre and invitations to industry events including the May 4 BSAP reception at the Chelsea Hotel, Toronto.
For the full story, check out this week's digital edition of Travel Courier by clicking here.