Winners, Finalists Enjoy Quiet Get Together Before The Big Day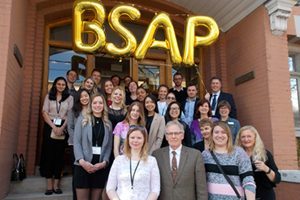 Baxter Student Awards Program (BSAP) winners and finalists, along with educators and members of the travel trade enjoyed a quiet get together at Baxter Travel Media's offices at 310 Dupont Street in Toronto. It was an opportunity for everyone to get to know each other before today's awards event at the Chelsea Hotel Toronto.
For those of you who don't know, BSAP is the only student mentoring program of its kind in Canada and it aims to help each student make their dream a reality. Based on a combination of academic success, community involvement, and leadership skills, the BSAP identifies the most-promising student talent in travel, tourism and hospitality programs at Canada's leading colleges and universities. Then, through a skill-testing webinar presentation, one graduating student from each of this year's 12 participating schools is selected as the Baxter Student Ambassador to represent their school.
Winning students will get a kick-start to their careers through a variety of networking and learning opportunities, plus the chance to gain hands-on experience through an internship or travel prize.
"We went from 1 to 12 schools in just three years, and already have more interest for next year's program," said Wendy McClung, executive vice-president, operations for Baxter Travel Media and a BSAP Director.
"As we continue to grow, we're excited to work with other dedicated industry partners, all committed to inspiring and supporting the next generation of travel industry stars," McClung added.
If you want to learn more about BSAP, check out this week's Travel Courier and its special feature on the program by clicking here.