Name

Bryannah Day

School

Mohawk College , Tourism & Travel

Twitter

@bryannahtravels

Instagram

@bryannahtravels

Facebook

Blog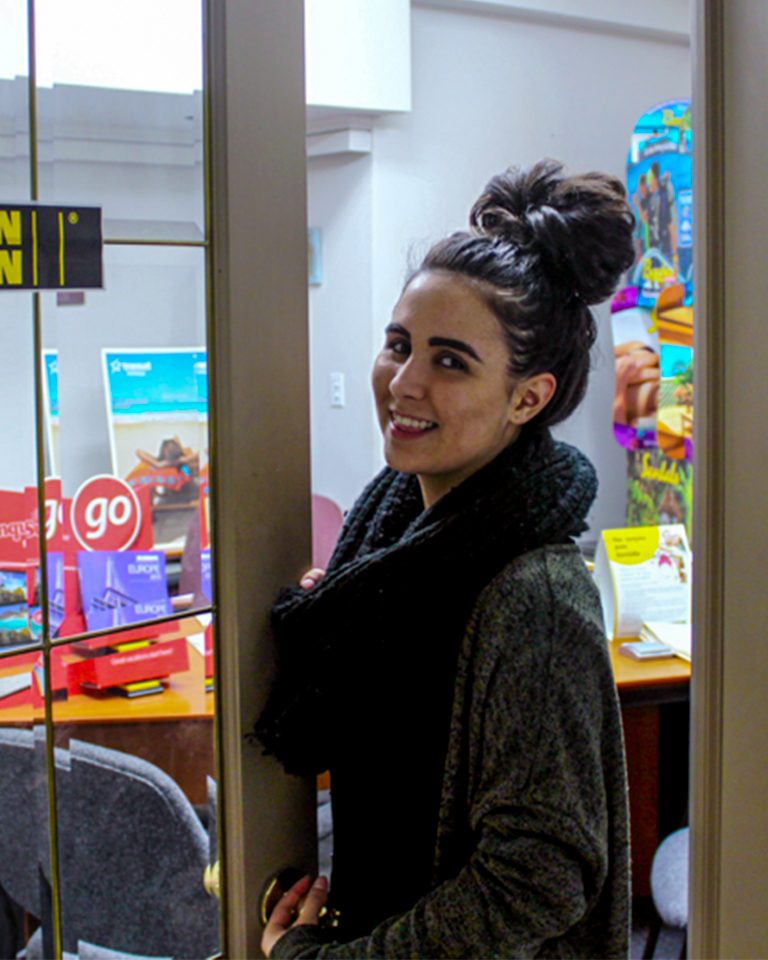 What did you want to be when you were growing up?

Both an Entrepreneur and Marine Biologist.

Why did you choose to study travel & tourism?

In my last year of high school, I had the opportunity to go on the history trip to France and Spain, after those two weeks all pre-decided post secondary plans went out the window and I wanted to pursue travelling.

What are your greatest professional strengths?

My greatest professional strengths include superb customer service, high organizational skills, and self-motivation which allows me to work strongly either independent or dependently.

In your opinion, what's the most exciting travel trend right now?

A cross between both Cultural Tourism and Sustainable Tourism, getting to give back to the environment and mother nature while meeting locals and learning about different areas of the world.

What is your greatest achievement so far?

Becoming the Baxter Student Ambassador for Mohawk College hands down. Also, being the first of my family to both graduate with a post-secondary education and receive it with honors.

What's your dream travel & tourism job?

I am graduating wanting to dip my feet in all areas. Right now my ultimate job would be travelling and working as a tour guide, getting to see the world and gain a vast knowledge of different cultures and areas of the world. Another goal would be to work within a company that organizes sustainable and volunteer tourism trips.

Where do you see yourself in 10 years?

Well seasoned, well travelled and working in a customer service capacity while also freelance writing on the side.

Name your favourite travel experience?

Going to Barcelona and getting to meet locals, learn about Gaudi (who has become a great inspiration to me), getting lost in the city, exploring the fresh market, sipping hot coffee and people watching my afternoons away.

Name one place you are dying to visit? Why?

Papau New Guinea! In my last semester of geography, we learned about the South Pacific islands and PNG stood out to me above all. The culture and different tribes living on the island, tied in with the diversity of land – from the dense rainforest to their coral reefs.

Where's your next trip?

Somewhere up in great Northern Ontario! I plan to spend my summer exploring locally in this beautiful province, and then hopefully spend a month in the fall travelling to Malta, Poland and France – all visiting friends and relatives.

Do you prefer a beach holiday or city adventure holiday?

Both?! If it's an actual beach holiday on an exotic island and I'm able to both relax and explore the area, I would be left satisfied, however if it was just an all inclusive then I would be less inclined for the beach holiday. City Adventure any day!!

Why should an employer hire you over someone else?

I am passionate, motivated, organized, inspired and wanting to learn. I love working with people and I have many years of customer service experience that I let shine through whenever given the chance. I represent the companies I work for with pride and professionalism and I work hard to meet and exceed any and all expectations of myself.

What are you plans this summer?

Besides exploring Ontario, I will be working as a Facility Clerk in the City of Brampton. I was promoted for the summer and will be overseeing roughly 10 staff, hiring, training, scheduling, and guiding them, while also entering payroll for over 100 employees. I also plan to pursue my personal brand and blog, while continuing to grow as a travel agent in the capacity I have been blessed with at a local agency in my hometown.

What do you look for in an employer?

I look for a company that strives on good customer service, treats their employees with respect and allows room for growth and improvement. I seek opportunities to learn and want to know that there is going to be a chance for me to travel, help people and grow within the company.