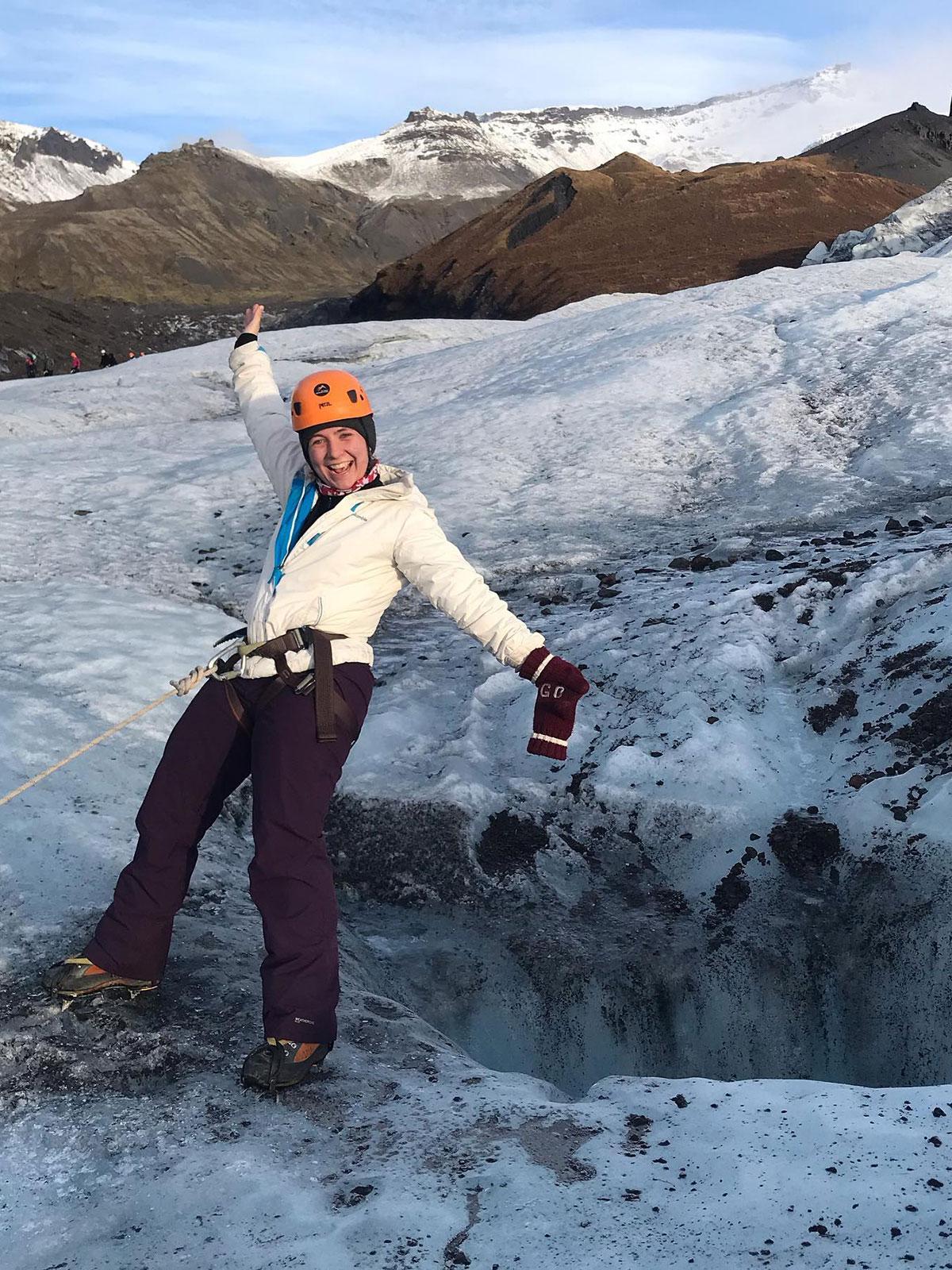 Describe yourself in 3-5 words:

Loyal, tenacious, dedicated, passionate, energetic.

Describe your travel style in 3-5 words:

Organized go-with-the-flow.

Why did you choose to study travel & tourism?

The obvious answer is because I love to travel and I never want to stop. I want to see and experience everything the world has to offer. Exploring new places, cultures, people, seeing how a way of life came to be and the remnants of places and events that shaped our world today because I love to learn. But more than that, I think a lot of my favourite memories come from trips I have been on. There are dozens of people in the world I never would've met and wouldn't still be in contact with if I hadn't travelled as much as I have, and memories of crying with laughter over burnt pizza and downright bizarre interactions with strangers. It seemed to me that the best way to make sure I could do all of that as much as I could, would be to study and build a career in the industry.

What is your greatest professional strength?

My inability to quit. No matter how hard the challenge or how long it takes me to find a solution. Even if the job is gross, or I'm alone, or it's late, I don't give up and I do what it takes to finish the job.

What's your dream travel & tourism job?

Something that would allow me to continue to travel and where I get to have fun with people, while still challenging myself. Being a tour leader for a tour operator, for example, or maybe working on a cruise ship as a recreation/event staff, bartender, or professional dancer. Maybe one day, down the road, being a travel agent. I may even go rogue and become a travel writer.

In your opinion, what's the most exciting trend in travel right now and why?

I'm really excited about how more and more people are looking for authentic cultural experiences when they travel—I've seen people label this as Experience Tourism—interacting with real people who live and work in the city and country, participating in true festivals, potentially living with host families, and actually learning a new way of life. I find that so cool and exciting, particularly because it's one of the ways I love to travel and experience tourism.

What is one thing you can't travel without?

A good book. I love to read, and my Gran always told me as a child that you never know when you'll be stuck somewhere with nothing to do so you should always have a book with you. Of course, she was saying this in a time where you couldn't even play solitaire on your phone because it was a flip-phone, but it's a piece of advice I still follow, and it's served me well in times when I lacked a Wi-Fi connection and/or cell service or I straight up couldn't be bothered with my phone.

How many countries have you visited?

17 (Canada, USA, Cuba, Costa Rica, Bahamas, St. Thomas, St. Maarten, Antigua and Barbados, Turks and Caicos, England, Scotland, Germany, France, Italy, Iceland, Taiwan, and Japan)

Name your favourite travel experience so far:

When I was hired as a summer camp counsellor for a camp called English Camp Taiwan. I travelled to Taiwan to live and work there for 10-weeks, and lived with five different host families. I met so many people, had so many new experiences, and truly lived and experienced another culture.

What's on your travel bucket list?

Egypt, South Africa, Peru, Thailand, Spain.

Name your greatest achievement so far:

My survival. Like a lot of people, I've had my share of difficulty with mental health. I had days, especially in middle school and university, where I didn't think I could keep going. Days where I felt worthless, rejected, abandoned, and stupid. Like I was never going anywhere in life. Like I didn't belong anywhere. Days where I lost loved ones and friends. Days where I cried myself to sleep because of the day I'd been through and woke up in tears knowing the day that was to come. Days where I just wanted it to end. But every time I was almost ready to give up, I fought. I told myself just one more minute, one more hour, one more day, one more week, one more year. And through all the blood, sweat, and tears, I survived, and I am fiercely proud of that fact because it's the most difficult thing I've ever done.

Where do you see yourself in 10 years?

I prefer not to set expectations on myself that may limit me when any day could be full of incredible opportunities I'd never even considered.

What's the best OR worst piece of travel advice you've received?

Best advice: backpacks over suitcases any day. Especially if you're moving from place to place, between cities, and constantly getting on/off trains with your luggage. A backpack frees up your hands and your arms won't get tired from lugging the suitcase, and you don't need to worry about say your suitcase wheels breaking off, which definitely didn't happen to a friend of mine who then had to walk 20-minutes with said suitcase. Do make sure that you get a backpack suited to your size and gender though so you don't destroy your back. In this case, it's worth paying the pink tax specifically for women because we carry our bodies and weight differently than men.